BWF World Championships 2023 Final results as we updated the full list of winners in Copenhagen.
This year, all the stars from around the globe gather in Denmark to battle for the unarguably most honorable title of the sport. The tournament ended in dramatic fashion.
M88 Mansion sponsors BWF World Championships 2023.
Click here for more BWF Word Championships 2023 results
Lee Zii Jia and Loh Kean Yew into 2nd round
Day 2 Results: Sindhu out in second round
Day 3 Results: Top seeds crashed out
BWF World Championships 2023 – Podium
Women's Doubles
Gold: Chen Qing Chen/Jia Yi Fan (China)
Silver: Alpriyani Rahayu/Siti Fadia Silv Ramadhanti (Indonesia)
Bronze: Kim So Yeong/Kong Hee Yong(South Korea) – Zhang Shu Xian/ Zheng Yu (China)
Mixed Doubles
Gold: Seo Seung Jae/Chae Yu Jung (South Korea)
Silver: Zheng Si Wei/Huang Ya Qiong (China)
Bronze: Yuta Watanabe/Arisa Higashino (Japan) – Jiang Zhen Bang/Wei Ya Xin (China)
Women's Singles
Gold: An Se Young (South Korea)
Silver: Carolina Marin (Spain)
Bronze: Chen Yu Fei (China) – Akane Yamaguchi (Japan)
Men's Doubles
Gold: Kang Min Hyuk/Seo Seung Jae (South Korea)
Silver: Kim Astrup/Anders Rasmussen (Denmark)
Bronze: Aaron Chia/Soh Wooi Yik (Malaysia) – Liang Wei Keng/ Wang Chang (China)
Men's Singles
Gold: Kunlavut Vitidsarn (Thailand)
Silver: Kodai Naraoka (Japan)
Bronze: Anders Antonsen (Denmark)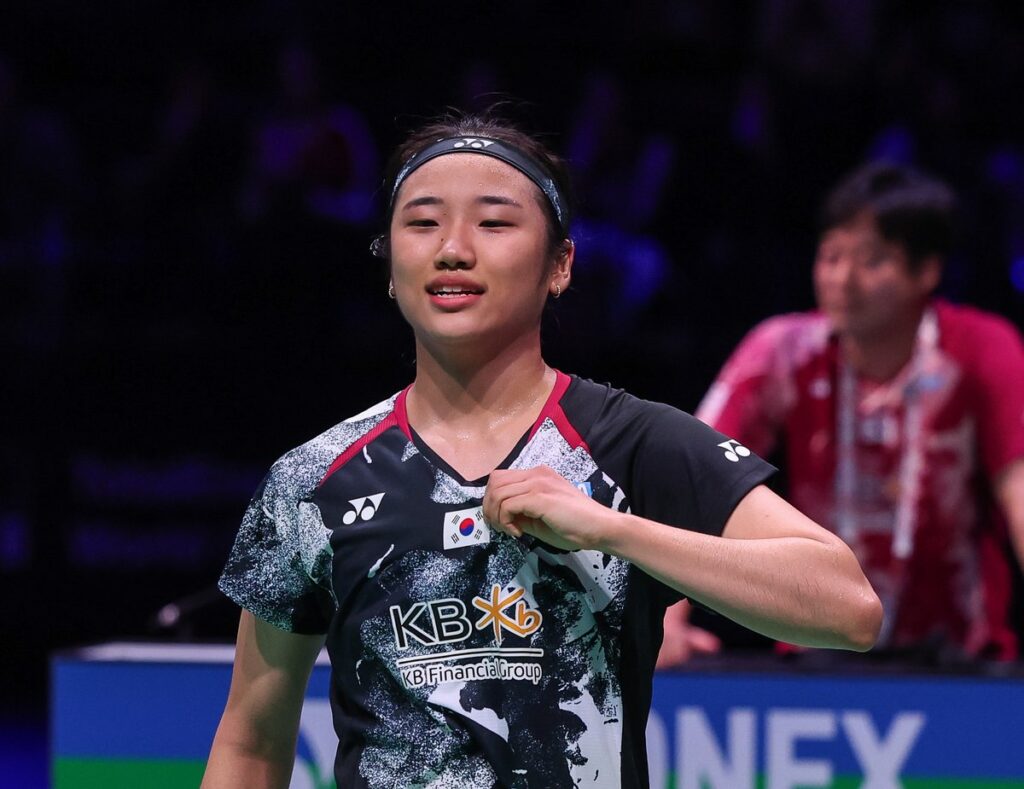 Seo Seung Jae – Remember the name
It was a magnificent tournament for South Korea as the Asian badminton powerhouse Korea returned their best-ever performance at the World Championships with three titles. Seo Seung Jea made history, and it was out of nowhere.
The 24-year-old Korean ace won the Men's and Mixed Doubles titles with two mesmerizing performances on finals day at the BWF World Championships 2023.
While An Se Young was the usual face, who had been in ten previous finals this season, Seung Jae's incredible performances were unexpected.
Seo and Chae Yu Jung had a poor string of records, which saw them lose all nine of their previous matches to the defending champions; that's why the victory over heavy contenders Zheng Si Wei/Huang Ya Qiong was breathtaking for the Korean pair.
The Koreans overcame a patchy second game to finally make it past the mighty top seeds, 21-17, 10-21, 21-18.
Seo took a few hours to regain stamina before accompanying Kang Min Hyuk and sending the home crowd to ultimate disbelief as they defied Kim Astrup/Anders Skaarup Rasmussen.
It was a tense championship match that saw the Danes easily win the first game, but the Korean crawled back slowly and stunned every spectator with a thrilling comeback.
Seo Seung Jae had become the first male player in over two decades to become a double world champion at the same edition of the World Championships.