BWF Sudirman 2023 Day 4 Results – Lee Zii Jia beats Chou Tien Chen as Malaysia top Group C over Chinese Taipei.
We update on the daily basis all the latest outcomes of the inaugural event taking place at the Suzhou Olympic Sports Centre in Suzhou, China from May 14 to May 21, 2023.
Sudirman Day 4 results
Malaysia closed out the group phase of the 2023 BWF Sudirman Cup with their third win from three, by beating Chinese Taipei 4-1 on Wednesday (17 May).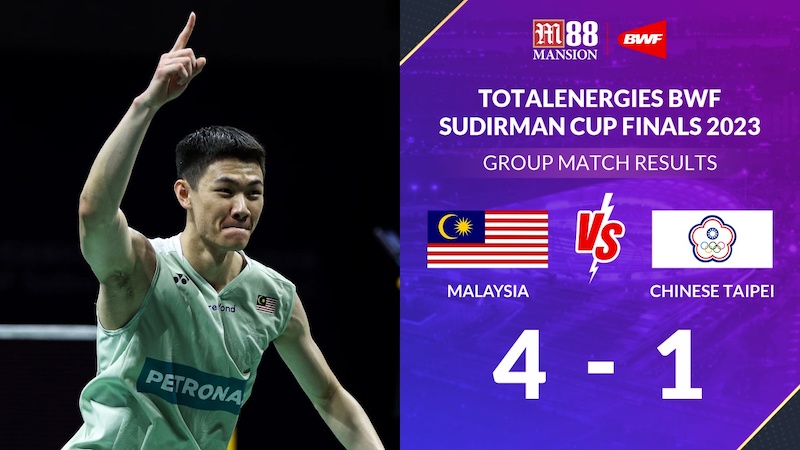 Group C
Malaysia 4 Chinese Taipei 1
XD: Chen Tang Jie/Toh Ee Wei def Ye Hong Wei/lee Chia Hsin 17-21, 21-19, 21-17
MS: Lee Zii Jia def Chou Tien Chen 21-14, 23-21
WS: Tai Tzu Ying def Goh Jin Wei 21-8, 21-10
MD: Ong Yew Swin/Teo Ee Yi def Lu Ching Yao/Yang Po Han 21-8, 23-21
WD: Tan Pearly/Thinaah Muralitharan def Hsu Ya Ching/Teng Chun Hsun 21-15, 19-21, 21-15
India 4 Australia 1
XD: Kenneth Zhe Hooi Choo/Gronya Somerville def Sai Pratheek.K/Tanisha Crasto 17-21, 21-14, 21-18
MS: Prannoy H.S. def Jack Yu 21-8, 21-8
WS: Anupama Upadhyaya def Tiffany Ho 21-16, 21-18
MD: M.R. Arjun/Dhruv Kapila def Ricky Tang/Rayne Wang 21-11, 21-12
WD: Tanisha Crasto/Ashwini Ponnappa def Kaitlyn Ea/Angela Yu 21-19, 21-13
Group D
Meanwhile, World number two An Se-young emphatically beat Japan's top-ranked Akane Yamaguchi to help send South Korea into the next round of the Sudirman Cup as group winners.
Four-time champions South Korea will be now joined in the knockout stage by previous runners-up Japan, despite the Koreans winning the tie overall.
Japan 0 Republic of Korea 5
XD: Kim Won Ho/Jeong Na Eun (Korea) beat Watanabe Yuta/ Higashina Arisa 19-21, 21-15, 21-5.
MS: Jeon Hyeok Jin (Korea) beat Nishimoto Kenta 21-11, 21-19.
WS: An Se Young (Korea) beat Yamaguchi Akane 21-11, 21-15.
MD: Kang Min Hyuk/Seo Seung Jae (Korea) beat Hoki Takuro/Kobayashi Yugo 21-18, 21-12.
WD: Baek Ha Na / Lee So Hee (Korea) beat Fukushima Yuki / Hirota Sayaka 21-13, 21-18.
France 5 England 0
XD: Thom Gicgquel/Delphine Delrue beat Marcus Eillis/Lauren Smith 22-20, 21-19.
MS: Toma Junior Popov beat Cholan Kayan 21-13, 14-21, 21-17
WS: Qi Xuefei beat Freya Redfearn 21-11, 21-11.
MD: Lucas Corvee / Ronan Labar beat Ben Lane / Sean Vendy 21-19, 21-19.
WD: Margot Lambert / Anne Tran beat Chloe Birch / Lauren Smith 21-13, 11-12, 21-18.