BWF World Championships 2023 Day 5 as the quarterfinals clashes took place, with Viktor Axelsen suffering from a shock defeat by HS Prannoy.
This year, all the stars from around the globe gather in Denmark to battle for the unarguably most honorable title of the sport.
M88 Mansion sponsors BWF World Championships 2023.
Click here for more BWF Word Championships 2023 results
Lee Zii Jia and Loh Kean Yew into 2nd round
Day 2 Results: Sindhu out in second round
Day 3 Results: Top seeds crashed out
BWF World Championships 2023 Quarterfinals – Axelsen crashed out
India ace HS Prannoy stunned reigning champion and home star Axelsen to earn himself a medal in Denmark, which is also his first World Championships medal confirmed.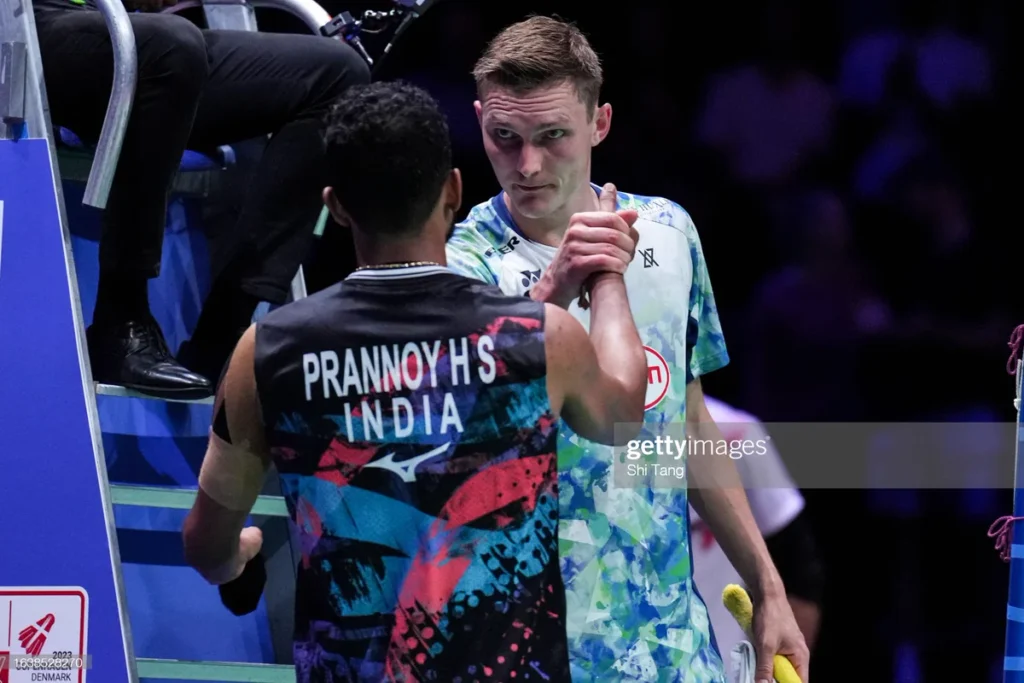 The Olympic champion started brilliantly with a comfortable first-game win, but the later it went, the more errors the Dane made.
Meanwhile, Prannoy sensed a glimpse of a comeback, and the 31-year-old, currently ranked as World #7, fought back to take the second.
And things were out of Axelsen's reach when he could not regain the initiative as the Indian sealed his third win in 10 attempts against Axelsen – 13-21, 21-15, 21-16 – and guaranteed him a first global medal.
Next for Prannoy
The veteran performed a masterful display after a 3-set battle against Loh Kean Yew yesterday, Prannoy now faces Thailand's Kunlavut Vitidsarn for a place in the final.
Meanwhile, Axelsen penned a message on his social media account in which he gave credit to Prannoy.
Other results – Carolina Marin outclassed Tau Tzu-ying in straight games
Marin bested Tai Tzu-Ying in straight games, 21-16, 21-14, to set up a last-four battle with two-time reigning champion Kane Yamaguchi.
The Spanish ace eased through to the semi-finals of the BWF World Championships 2023 despite having fallen behind in the pair's head-to-head 10-9 in their 19 previous meetings. But Marin started a charge just before the first mid-game interval to lead 11-6.
Left-handed Marin needed 50 minutes to beat Tai Tzu-ying, as the Chinese Taipei shuttler, who won medals at the last two World Championships, was unable to close the gap with Marin sealing the first game 21-16.
Tai went out into a 6-2 lead in the second game, but the three-time badminton world champion found her form again to trail by just one at the interval.
Then came an inexplicable dip from Tai as she dropped seven points in succession, leaving Marin on the brink of victory.
And the three-time world champion did not need a second invitation, taking 11 of the last 13 points to go through in 50 minutes.
Anders Antonsen ensured there would be home interest in the men's semi-finals as he breezed past Japan's Nishimoto Kenta 21-10, 21-7 in just 43 minutes.
The 12th-seeded Dane assured himself of a third World Championship medal and now awaits Shi Yuqi or Naraoka Kodai in the semi-finals.